To Know Him and to make Him Known
Welcome to the online home of St. Columba's Parish Church, please feel free to browse around our site, hopefully you will find something of interest to you and will wish to join us in worship.
We are an active warm and friendly congregation located in the Oxgang area of Kirkintilloch. We are part of the Church of Scotland in the Presbytery of Glasgow.
---
Due to the current restrictions the church phone is not being monitored. The secretary can be contacted by emailI at or you can contact us by the contact form on the web or the minister on 07427 623393 or email
Latest Good News
Our Building is now open for worship. The Kirk Session's request to Presbytery for permission to reopen St Columba's for Sunday worship has been approved, however due to the Coronavirus outbreak numbers are limited in line with Scottish Government regulations this means it is necessary to book a place. Coming to church under the new rules will be very different from what we are used to. Click HERE for more detailed information on how to book a place . Please also access the associated documents available from the information letter. If you are unable to attend then you can still join us online for our weekly services.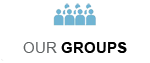 We run a full programme of events for people both members and non members of our church.